Sometimes it feels like we have to look back before moving forward.
I know many of you are aware that we are in the midst of a long term archiving project. 15 years of travel, creation, adventure, and a passion for photography have brought into existence a veritable mountain of photographs of all formats. Our task  now is to sort, edit, collect and share the stories from all of these images.  
India is where my deep love of textiles began. It is where I began to realize the importance of handwoven textiles in the context of human history. I was hooked by all aspects of this beautiful, sensual and also incredibly powerful yet seemingly humble object.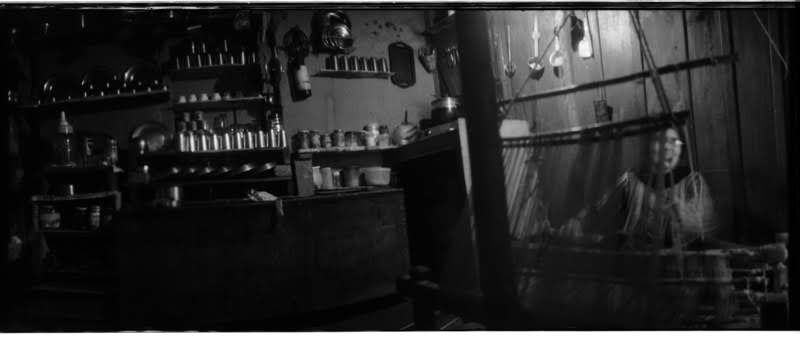 The loom above is the first loom that I ever really spent time with, inspected and admired. We rented a room in the home/guest house of Kamla and her husband, (whose name I can't recall) and ate meals with them.  Her meals remain as some of the best I've ever had.
The photo above was taken with a Horizon 35mm panoramic camera circa 2008. It was one of three analog cameras that we carried at that point in our lives, the other two being an old Rollei that belonged to my (Jeannie's) grandpa, and a 4x5 Linhof Technika. Many of the photos in this post are from analog photography which was the great love of my 20's, but I digress.
Kamla showed me how to operate her loom - a pit loom built into her kitchen floor.  I spent hours with her as she danced between weaving and cooking and after a time she allowed me to try my hand on the loom.  These first few passes of the shuttle sparked an obsession that continues to this day, though I must admit my first passes of the shuttle made a mess of her perfect weaving.  After a short time she sat back at the loom and deftly unwove the cloth, repairing my clumsy errors and continued creating a masterpiece. I was in awe of her work and so grateful I was able to use my hands with these mysterious tools.    
Kamla wove Kullu blankets as she was from the Kullu valley.  Every valley in the Himalayas has their own style of weaving beautiful and functional blankets used and worn by just about everyone in the region. Each style borrows from the shared history of the peoples and then accentuates the uniqueness of history of each and every population inhabiting a different valley in those oh so gigantic mountains.
Below are the hands of a woman weaving in Kinnaur valley and women donning shawls in the Leh/Spiti style.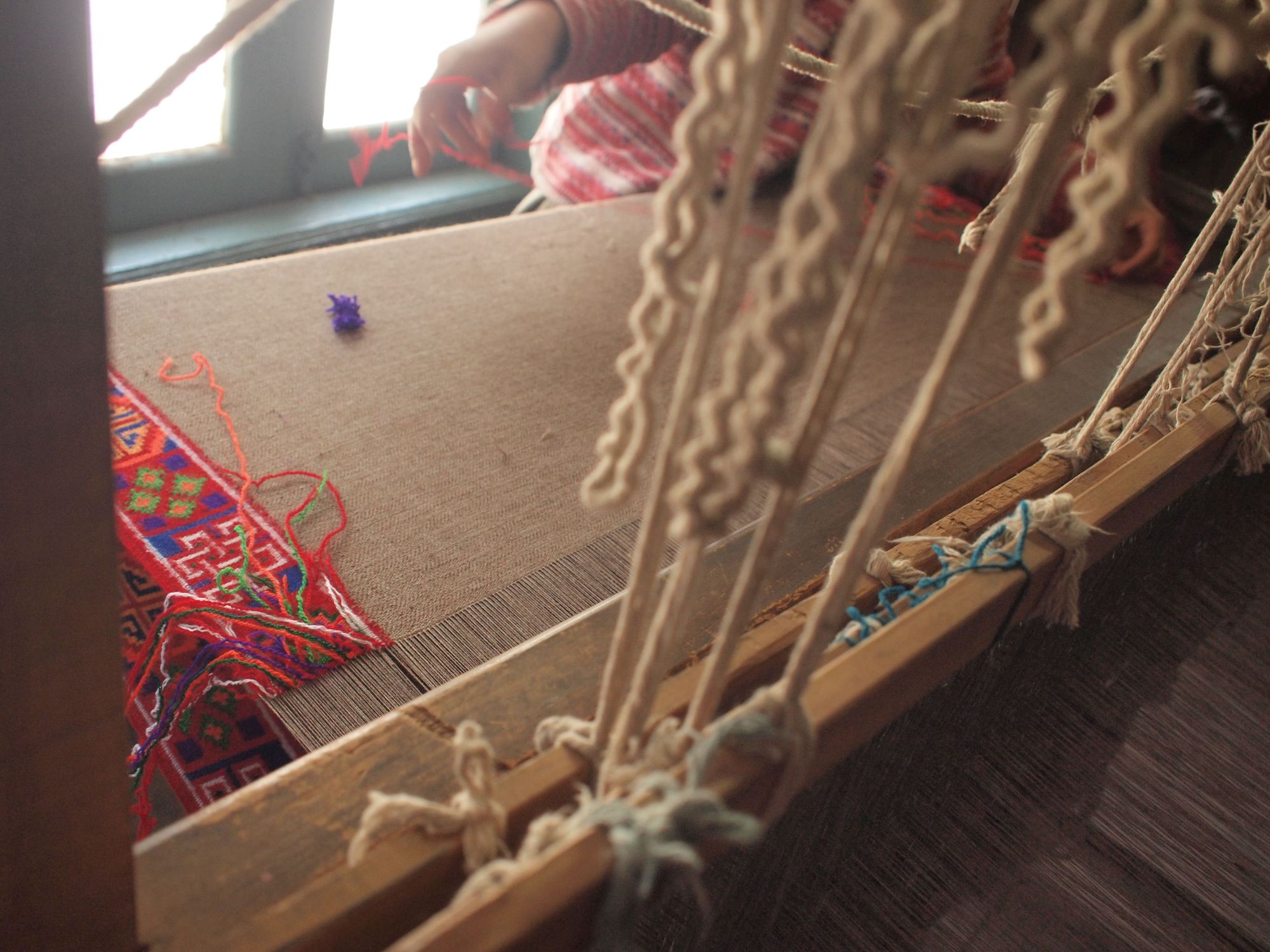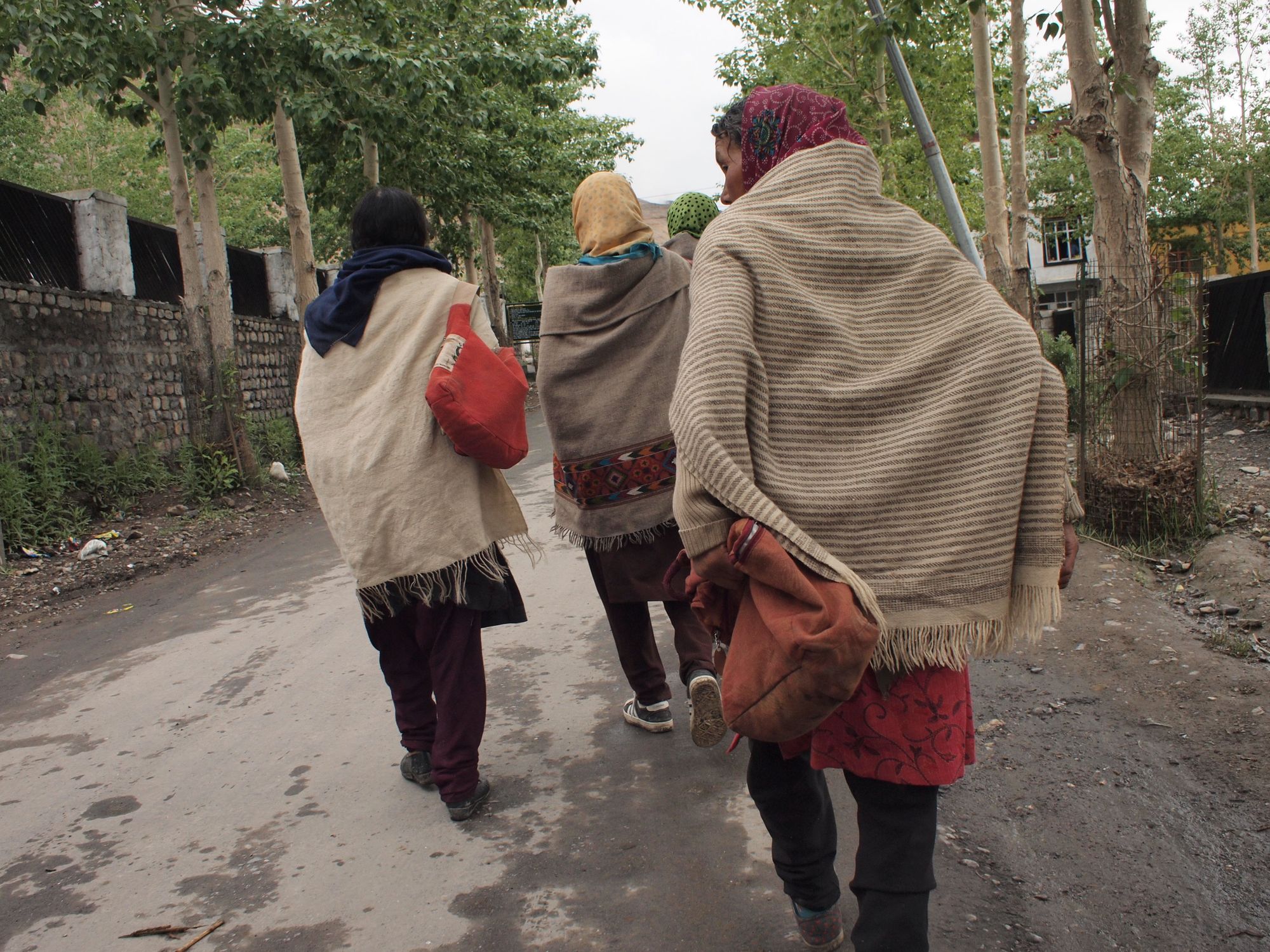 Sometime in 2008 I bought a hand crank sewing machine and began working daily to construct clothing, adornment and small sculptures with the handwoven textiles that were readily available throughout the country in Khadi shops.  Nearly every town has a Khadi shop, filled to the brim with all manner of handmade goods, most alluring for me were the textiles. I sewed a great many funny looking clothes out of amazing fabrics.
I'm never going to forget driving home, back up the mountain to Mcleod Ganj on our little 350 Royal Enfield motorcycle. Kyle, me and my brand new 40 pound hand-crank sewing machine winding our way back up the mountain, precarious and heavy.  Below is a photo of the hand-crank sewing machine I was borrowing before I decided to purchase my own. (I think the brand new Singer that I bought was about $25) When we left India I gave my sewing machine to a dear friend Supna.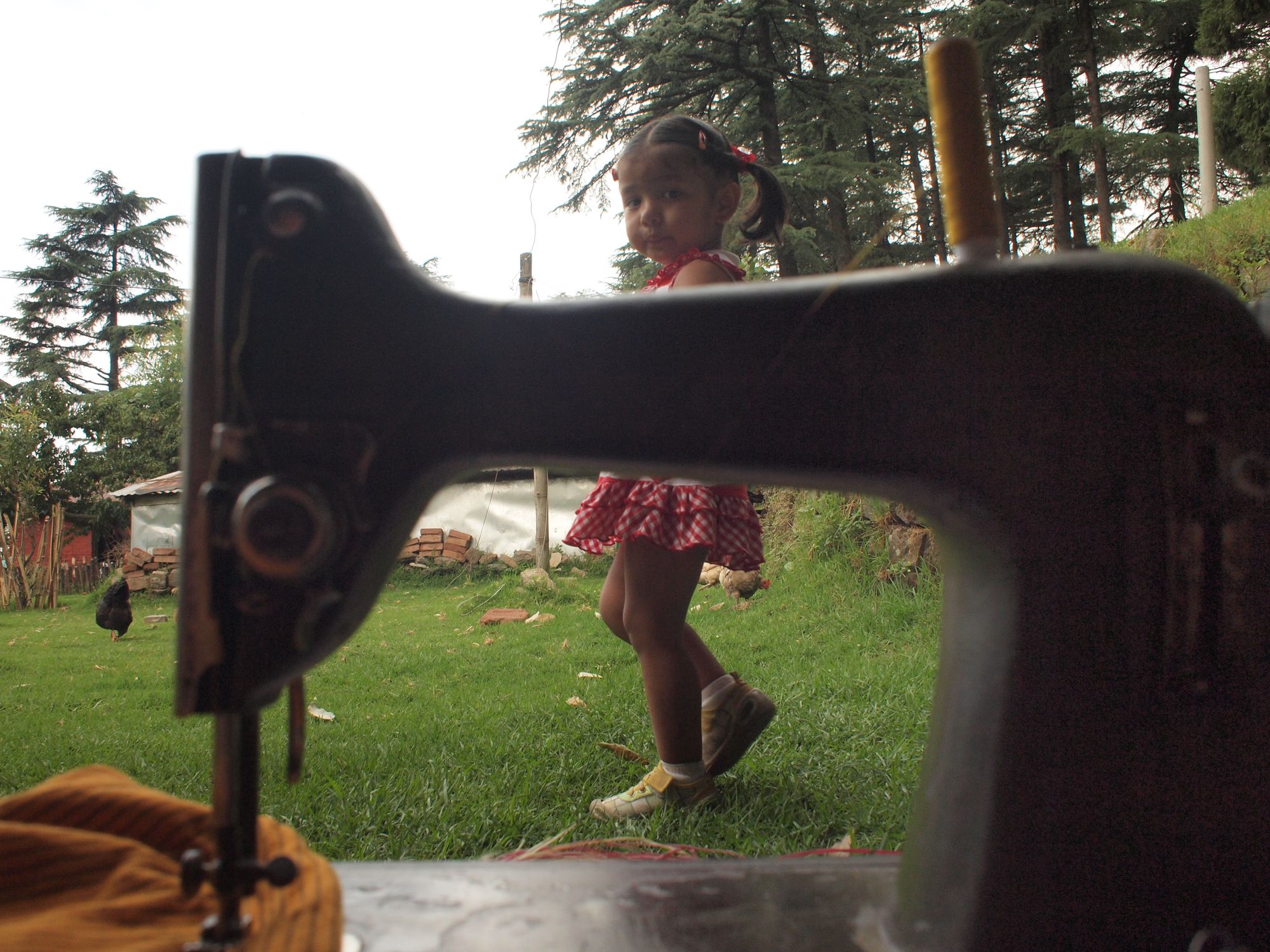 This was a self portrait that I set up in our room where we spent many months. Kyle painting and me, exploring the world of handmade textiles. Our time in India allowed us to really explore our respective arts. We often passed on doing "tourist" activities to instead practice our crafts. This moment of time was foundational in fostering our path to becoming full time artists a few years later.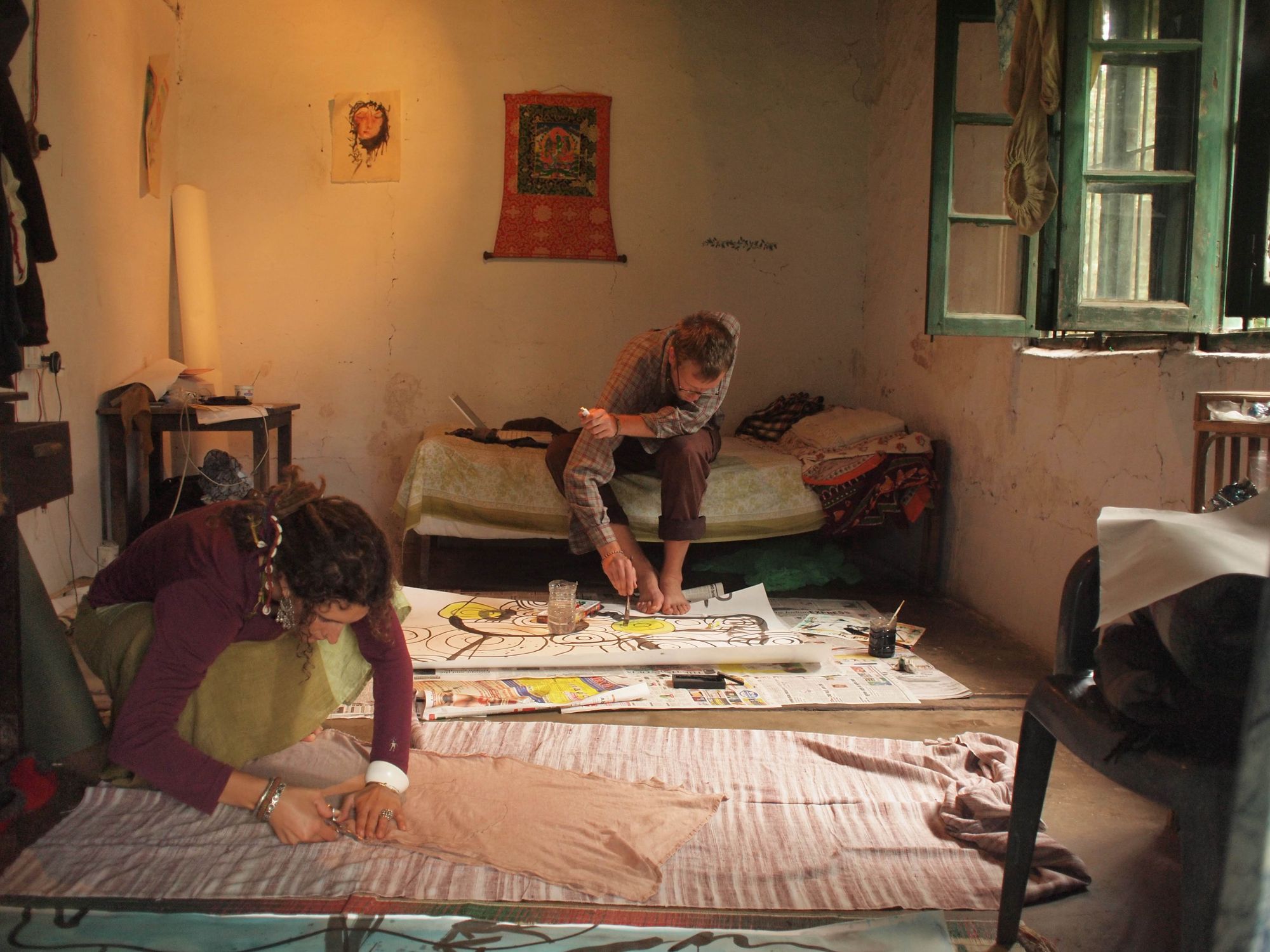 Though this wasn't the trip in which we acquired the sewing machine, this is us and our motorcycle as we crossed the Himalaya. Please note the Leh style basket strapped to the back which was full of apples I fed to Kyle as he drove and the prayer flag for good luck as we motored over mountain passes up to 5,328 m (17,480 ft) on the Leh-Manalli highway. A story for another time perhaps.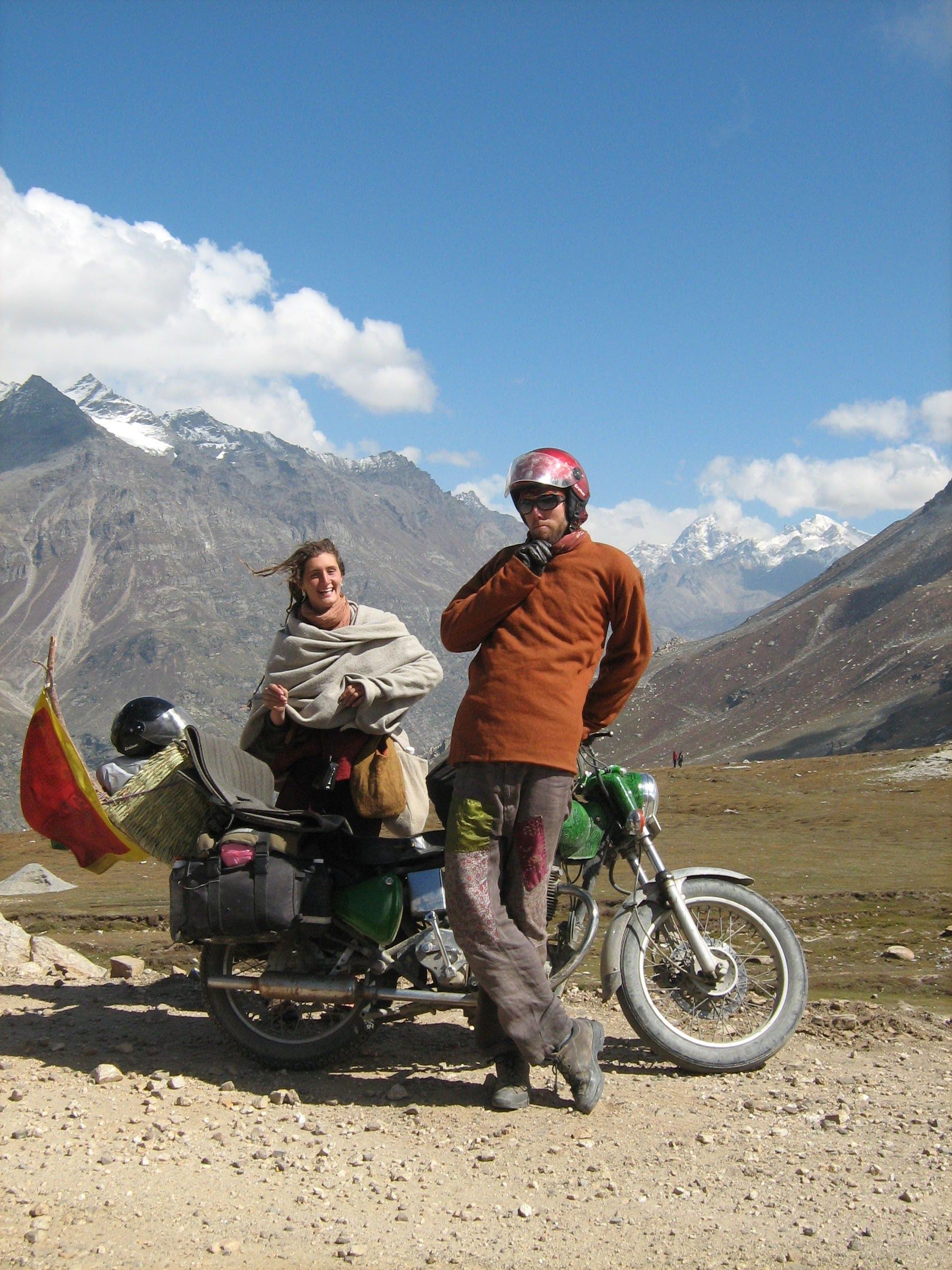 As textiles seeped into my consciousness I began to see them everywhere. Textiles and their production are ubiquitous in India, people spinning, sewing, weaving, selling and wearing these things everywhere. I truly learned that textiles are an integral part of everyday life; a lesson which has since imbued all of my art.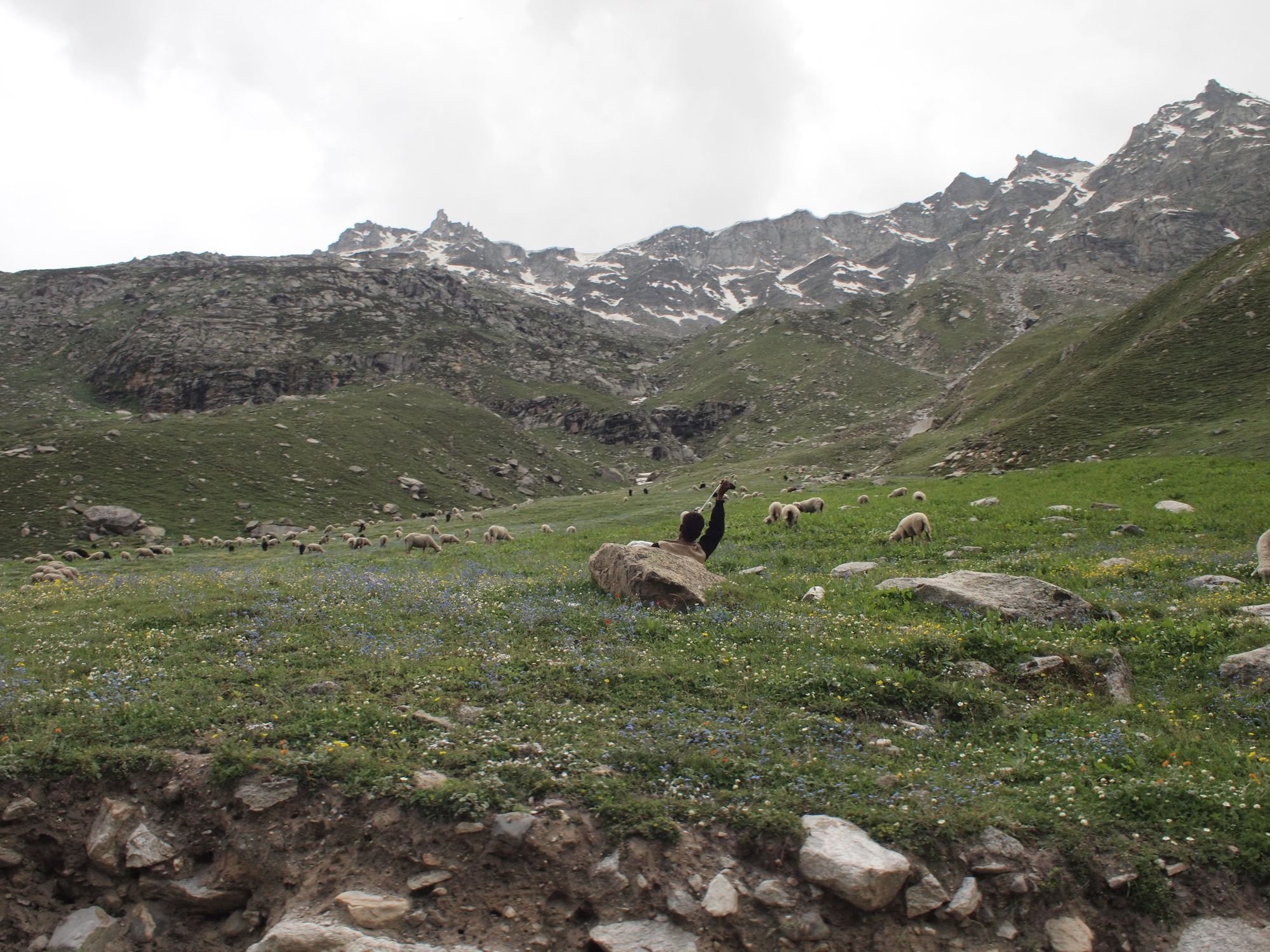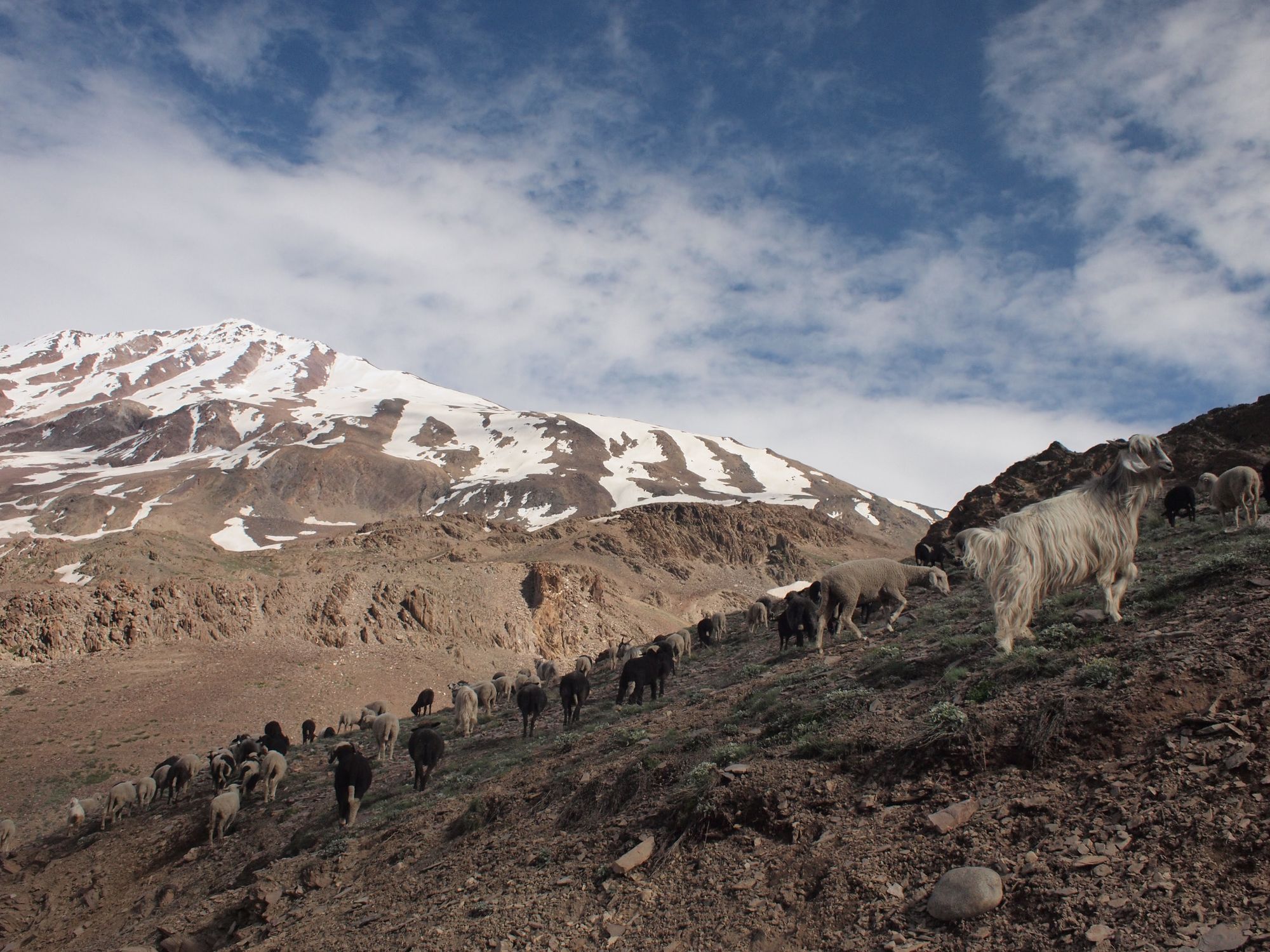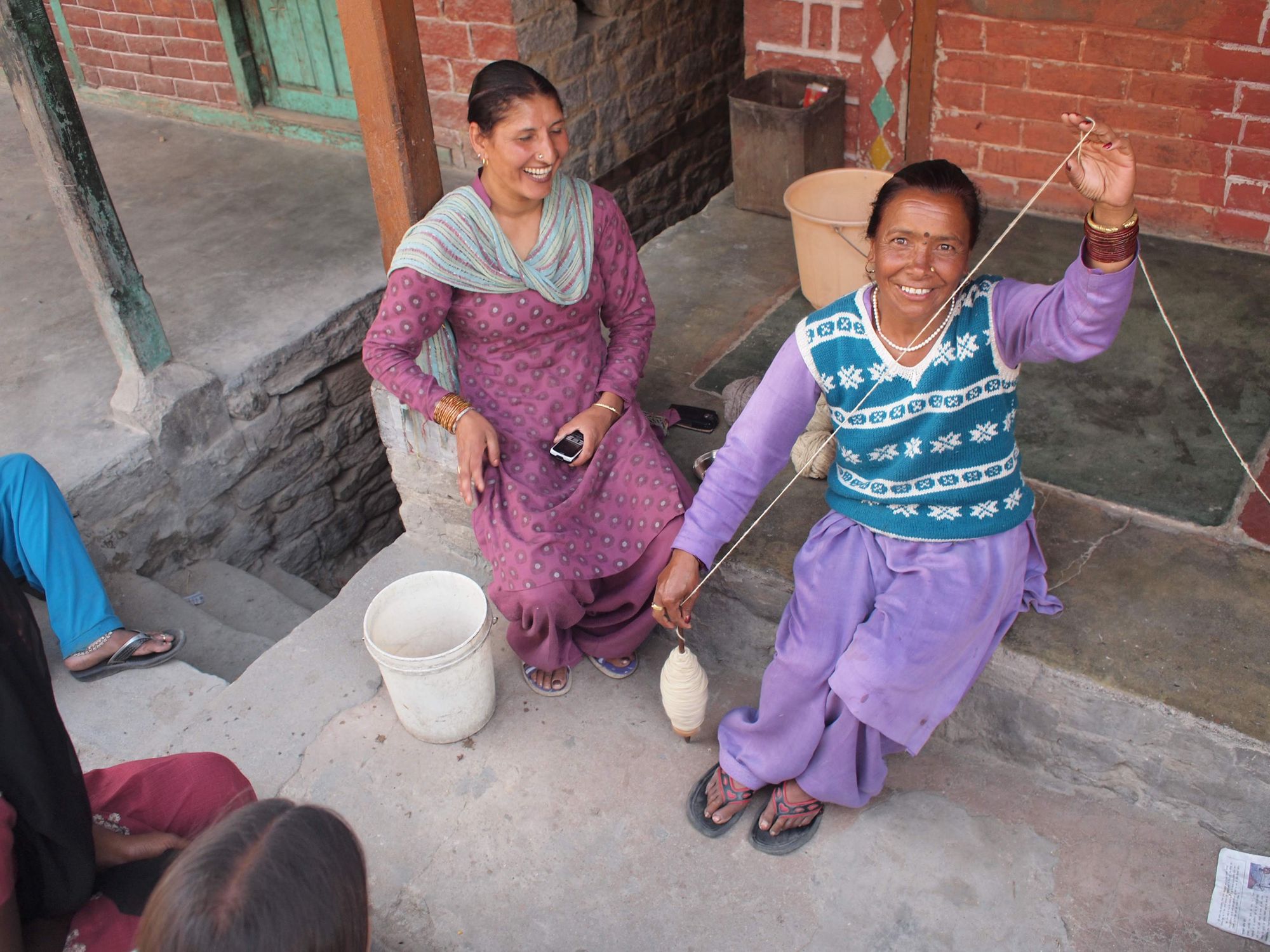 This is another scanned 35mm photo from the Horizon camera, taken with slide film that was cross-processed.  It was a beautiful and fascinating view of life from above.  Peering out our guest house window I was able to watch people working in a small production area for silk screening saris. The process was beautifully honed, two people passing the squeegee across the long tables, moving down the fabric with large screens.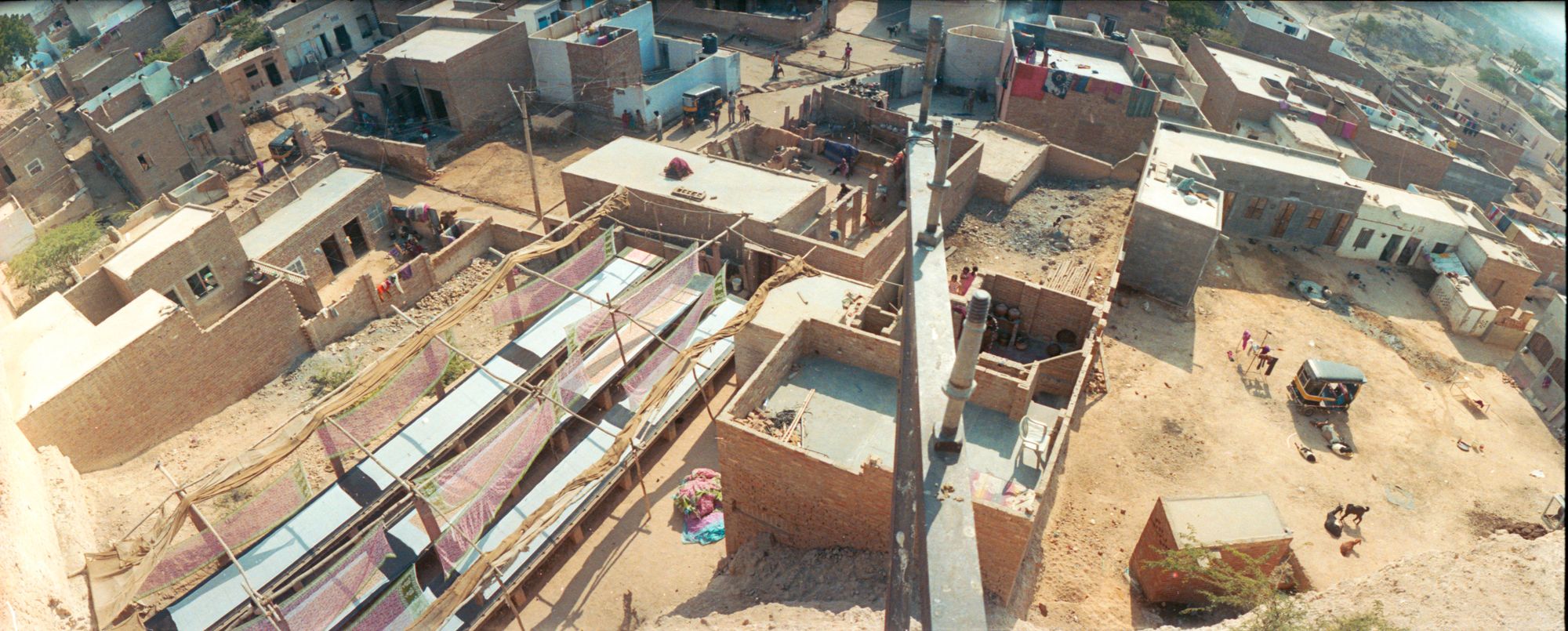 In 2010 we returned to India with our first digital camera in hand, and I had nothing but textiles on the brain. (though i wouldn't begin weaving until returning to the States) The next photos are from the workspace of a weaver in Bhuj, Gujarat. He generously spent time talking with us about his loom and the process of weaving. This was the moment I realized that weaving needed to be a part of my life.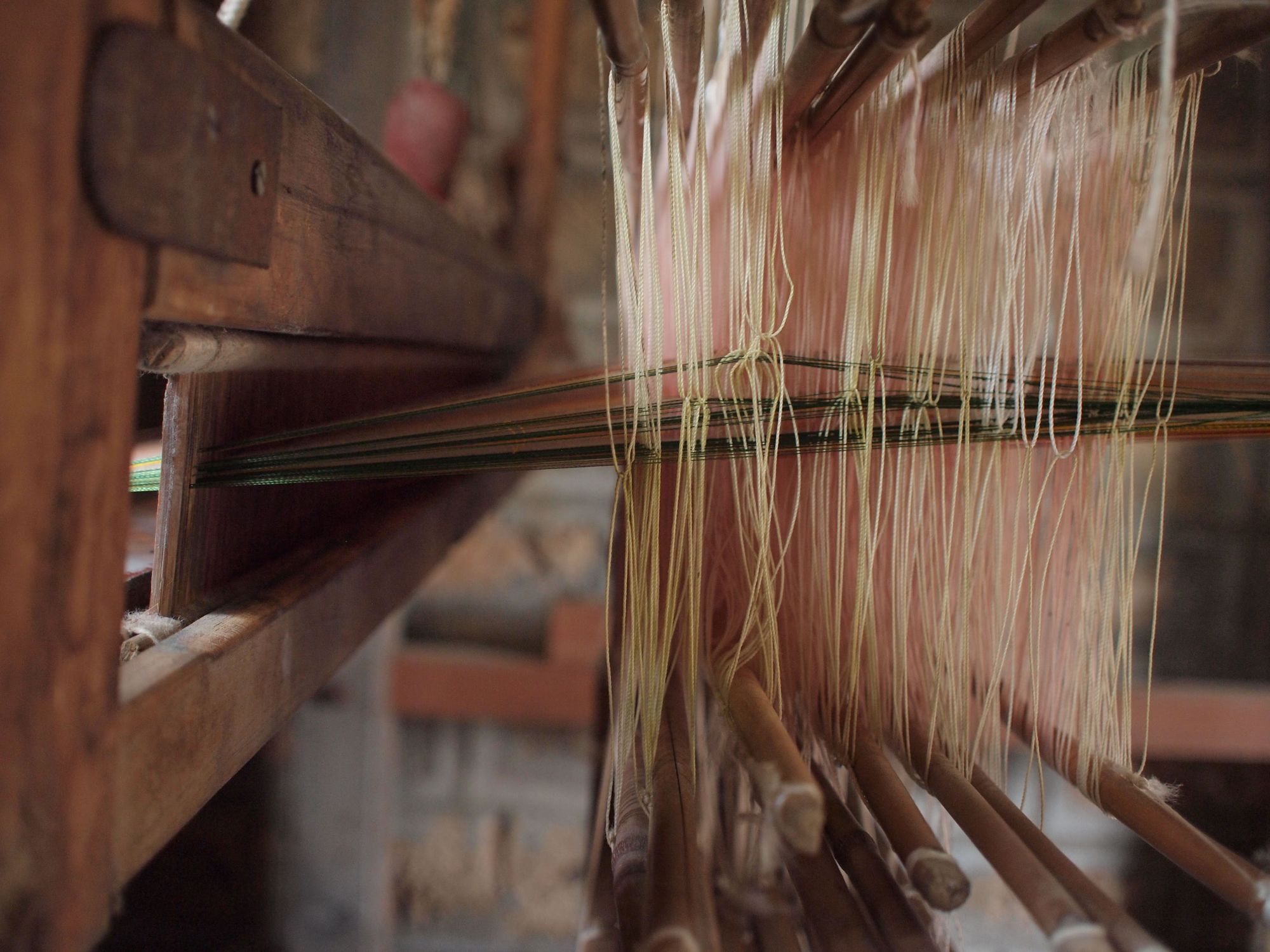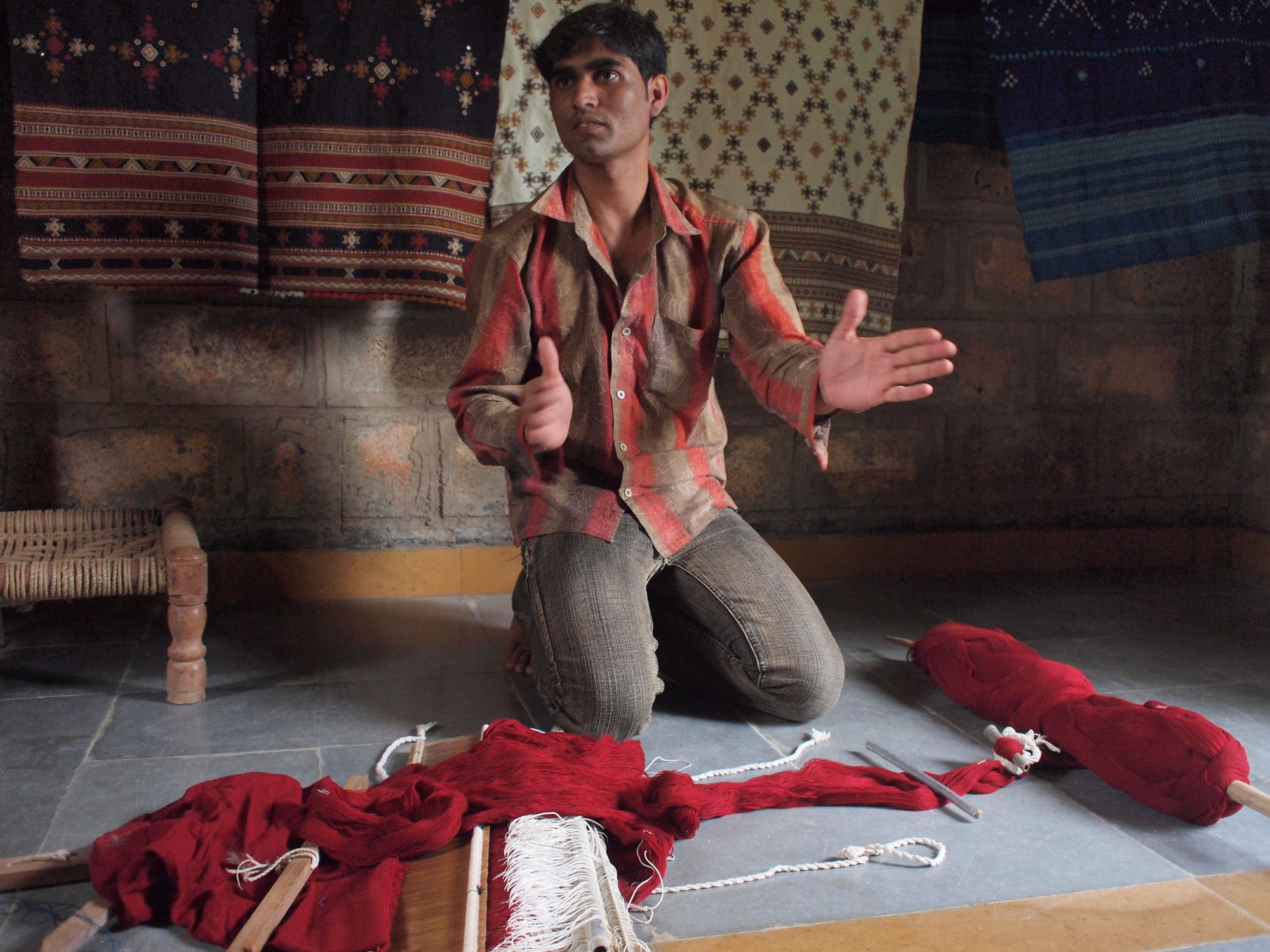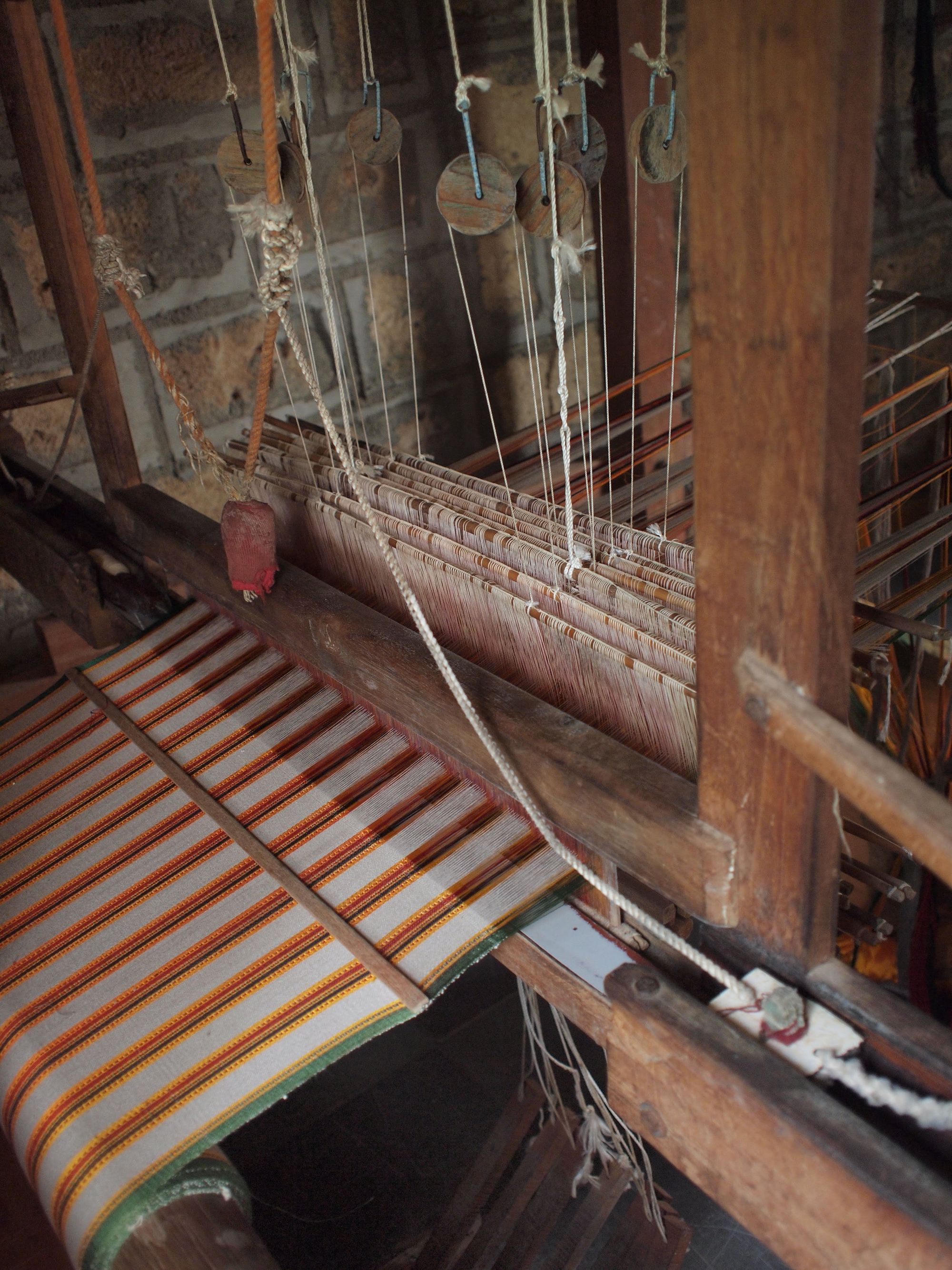 As our departure date loomed, we began collecting fabric to bring back to the states. We were each able to check two 50 pound bags with our ticket, so we set out to bring home 200 pounds of fabric. This is one of the last Khadi shops that we went to, it was in Pushkar, Rajasthan. It was a beautiful, small, open air shop and the man was so sweet I just had to share. He himself wears a kurta made from the classic variegated khadi fabric.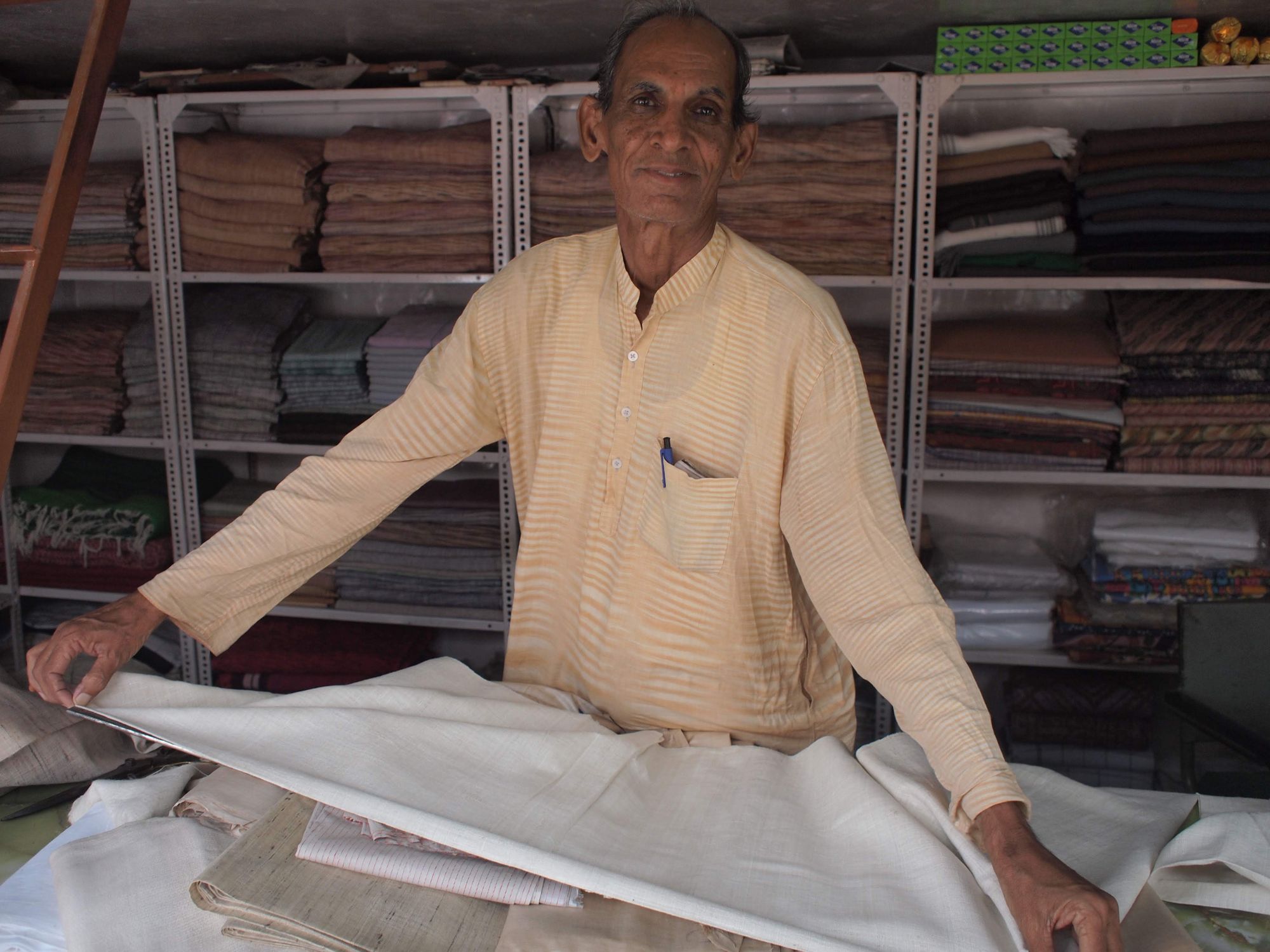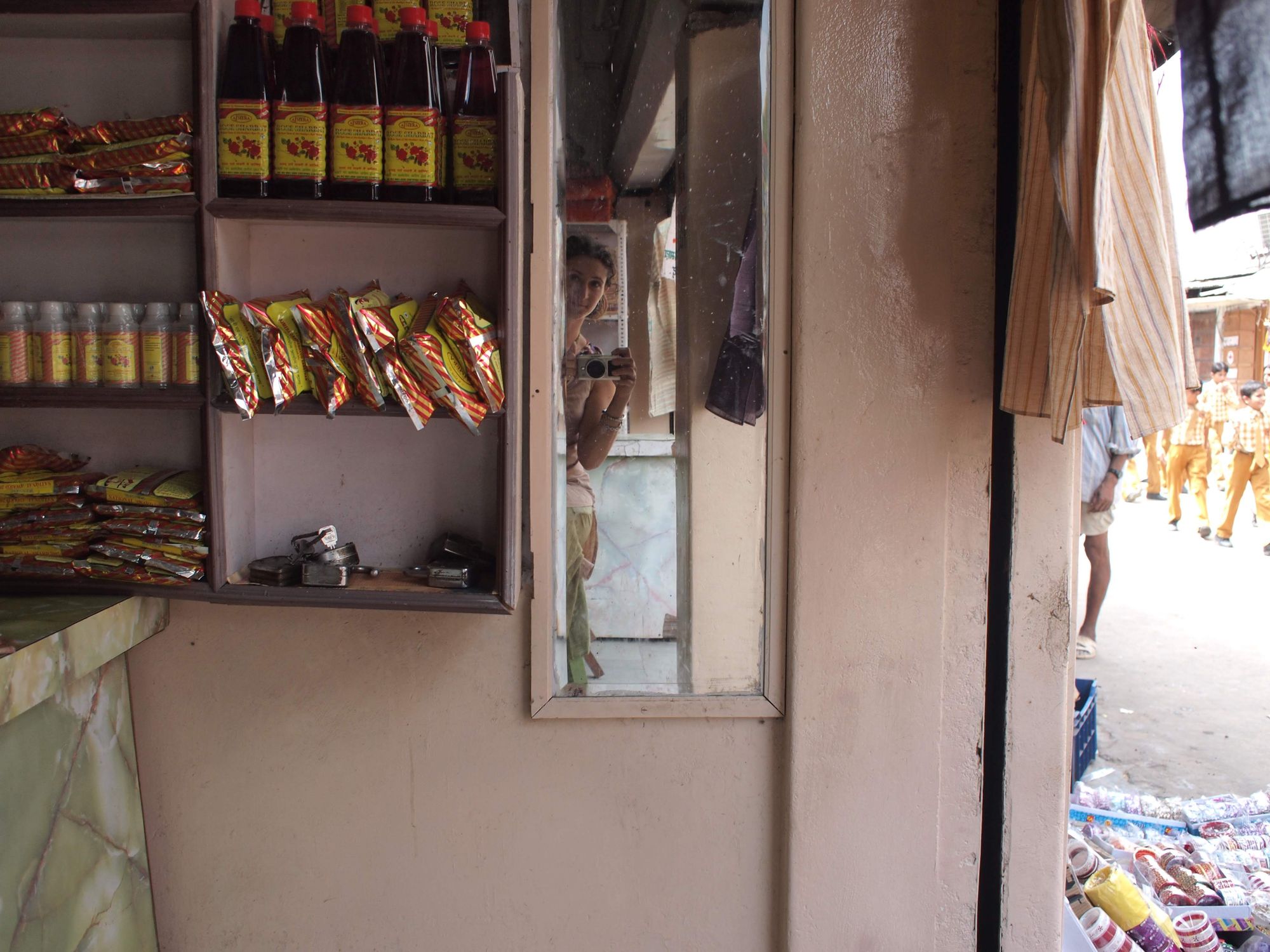 This dress was one of my favorites, made from one of my favorite fabrics: a gorgeous orange cotton Khadi Ikat. The hood was like an attached shawl, allowing me to catch a nap on a train or bus when possible.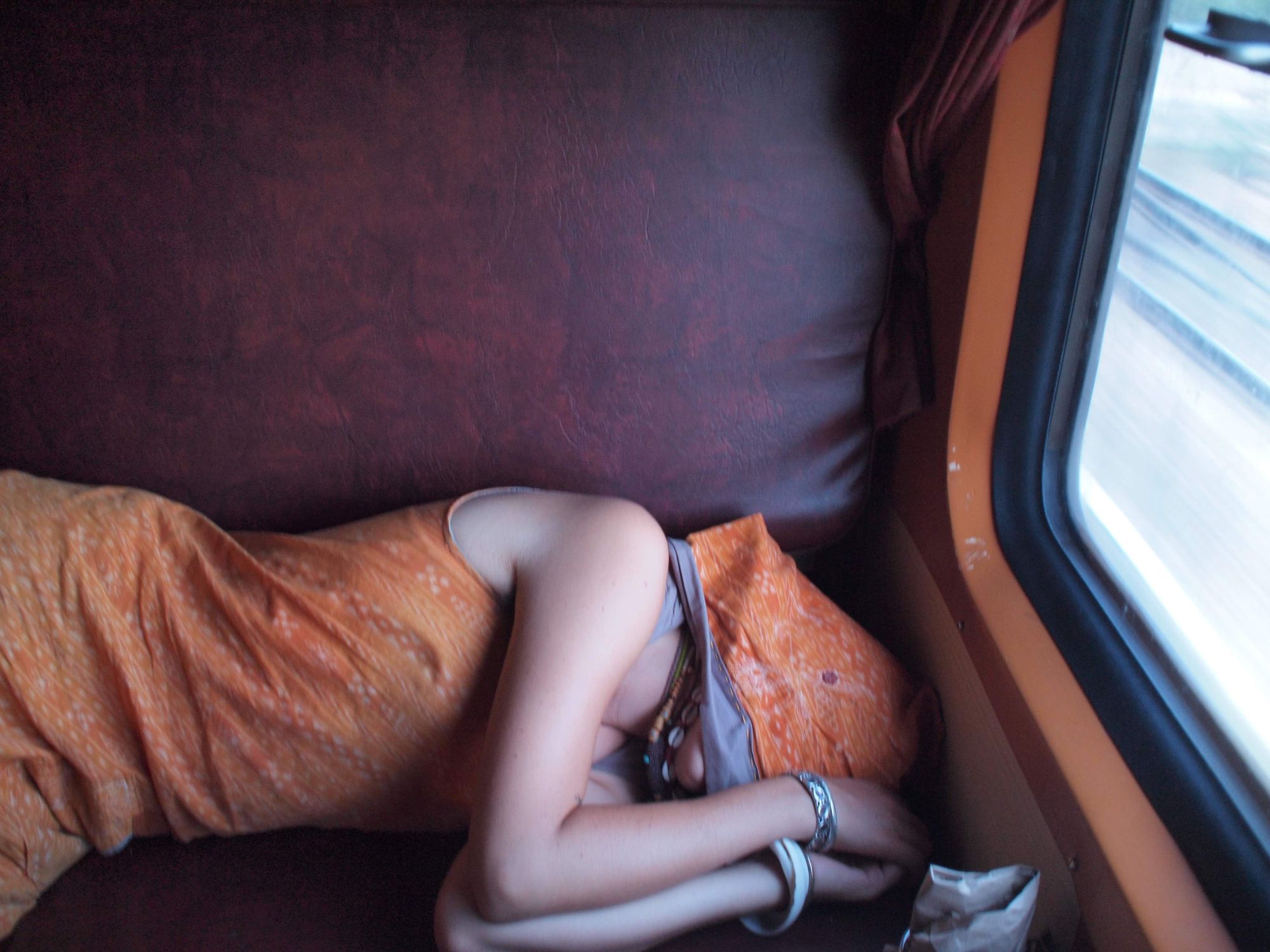 Our last day in Delhi was filled with eating all of our favorite foods (dosa, samosas, falooda and parantha) and shopping for more fabric.  There is a wonderful row of government emporium shops, each having the handmade wares from their respective states.  The cacophony of color and texture is astounding.  There is every manner of handwoven silk, cotton, wools, Ikat, double Ikat, printed and embroidered!  (yes, entire bolts of hand embroidered fabric.  Below Kyle is admiring it) I look forward to the day when we can travel again and I hope that some day we will be able to go to Bihar, the home of Bhaglpuri silk, but for now I am content to weave my own.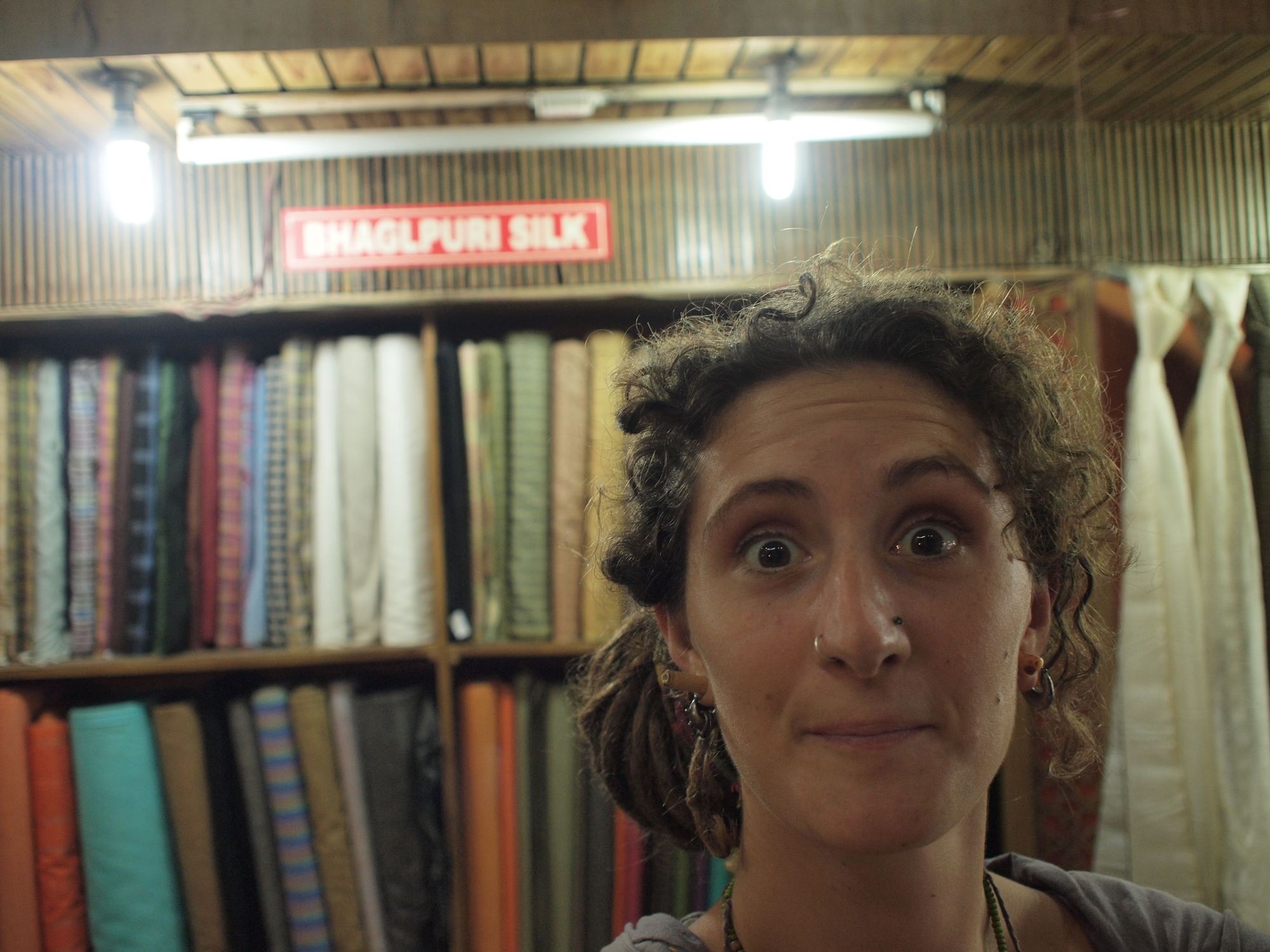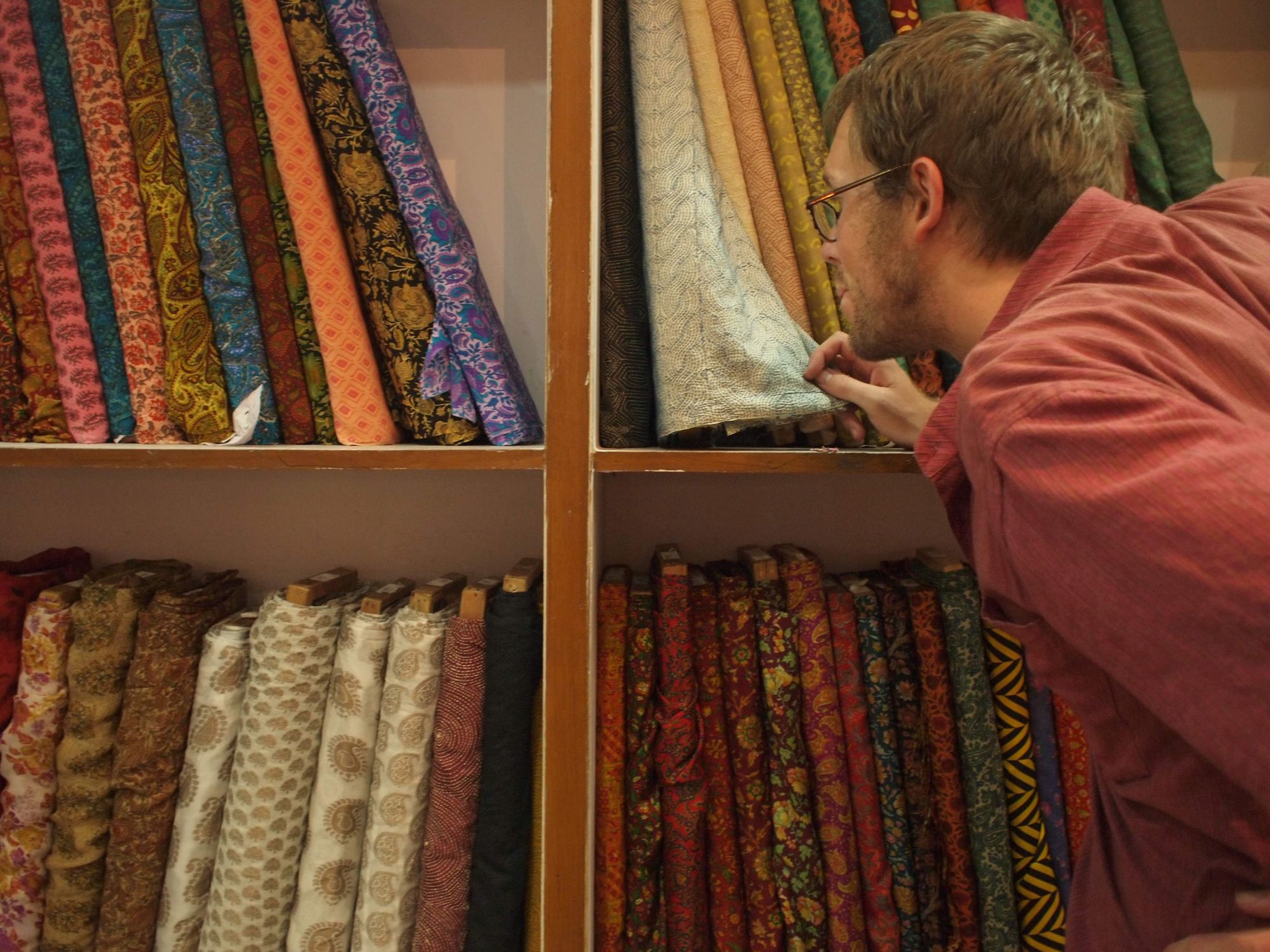 We (along with the rest of the world) have been daydreaming a lot about travel. In the first month of 2020 we were getting ready to travel the world again, but that clearly didn't happen. So here we are, trying to figure out what the future of travel will look like, and in the mean time sharing stories of past explorations to fill out the story of who we are and why we do what we do.
I'll close this out and leave you with two recommendations relevant to textile history that I've discovered recently. (They can also be found on my recommendations page)
The podcast Haptic and Hue weaves together stories of textiles, history and the human experience, its truly lovely.
Through the recommendations page on the Haptic and Hue website I came across the book The Fabric of Civilization: How Textiles Made the World by Virginia I. Postrel. The title of that book speaks for itself and it was facinating.